CAMP Publications
The Council on America's Military Past publishes the Headquarters Heliogram, an eight-page newsletter, and The Journal of America's Military Past (JAMP), a scholarly publication.
Headquarters Heliogram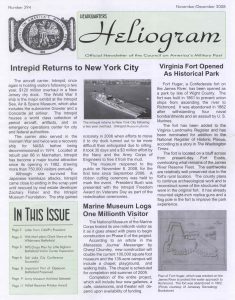 The Headquarters Heliogram is the official newsletter of the Council on America's Military Past. It provides current information on historic preservation activities from around the world.
Subscription to the Headquarters Heliogram is included in the membership and cannot be ordered separately.
The Journal of America's Military Past
Formerly Periodical
The Journal is CAMP's official journal and forum for articles on historical installations and military biography. This fully illustrated and footnoted publication contains in-depth monographs on military history.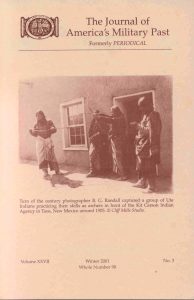 NEW: Now available for download are a listing of articles from Vol. 1 to date and an index of authors. Click on the links below for each.
Authors Wanted
The Journal of America's Military Past welcomes new authors, especially graduate students or first-time authors and we are always in search of volunteers to write book reviews. You do not have to be a member of CAMP to write for us. Potential authors should click here to learn more about the Journal format and style. For additional information or contact the editor send message to EditorJamp@yahoo.com.
Current and Next Issue Articles
Currently in Issue 130 of JAMP
Dr. Christine Miller's, Royal Spanish Military Hospital, St. Augustine (1790-1821), provides a look on medical treatment in the New World by an Old World Nation. The Spanish Hospital at St. Augustine provides an interesting and different view of hospital care in America because it relies in some cases on out-of-date thinking about "humors" and at the same time modern use of herbs. The hospital and museum has been restored to the look of its glory days, with many original items and one of those extra places to visit in historical St. Augustine.
The Revolutionary War Leadership of Maj Gen William Heath: A Reassessment by Sean Heuvel looks at this forgotten leader from the American Revolution. Gen. Heath is an interesting character – not a great general on the battlefield, but as a leader of men he helped the Revolutionary cause doing the nitty-gritty work that an army needs, but many Generals don't have the patience with. Many Revolutionary figures we learn about appear on the battlefield, but during his day Gen. Heath was as well-known as any other leader.
An Examination of Fear and it's Releief at Iwo Jima and Koto-ri, Korea by Kathleen Martin is Dr. RichardSilvas' first-hand account of how fear was viewed and treated in the post-World War II military. Spending a great deal of time in the front lines of both these battles in a MASH unit, he gave his ideas on what brings on fear in combat and how the men could and did adapt to it. It provides insight on what men can endure if given the proper motivation and leadership.
Upcoming in Issue 131 of JAMP
Dr. Mark Smith examines the work of Joseph Gilbert Totten and the Third System of Costal Defense. From 1816 to 1867, the United States depended primarily on the Third System of coastal defense to protect itself from an aggressive western power, an enemy nearly always presumed to be Great Britain. It was the federal government's third attempt to defend the coast but its first systematic plan that moved beyond merely protecting a few isolated coastal enclaves. The person with the greatest influence on this defense policy throughout its entire existence was Joseph Gilbert Totten, whose life paralleled the system he oversaw.
Memorials to the Fallen: World War I Monument in Virginia by Dr. Lynn Rainville examines the many ignores memorials throughout the state. Virginia is best known for its Civil War history, but there are over one hundred statues, plaques and memorials. She looks at the symbolic variability the meaning of these memorials and explains why they remain important today.
Dr. Ed Salo reviews the unusual convergence of military leaders in, Bacon's Bridge, South Carolina and the American Revolution. This action took place during the Siege of Charleston where Francis Marion, Generals Horry, Moltrie and Green opposed Banastre Tarleton and Patrick Ferguson at different points in the operation
Books Available for Review by CAMP Members
The following books are available for review by CAMP members only. They should be requested from the Journal of America's Military Past's book review editor, Roger Cunningham, whose email address is cunninghamroger@hotmail.com. Reviews should be submitted as an email attachment to the same address within 90 days and follow the format used in the Post Library section of the most current issue of the Journal of America's Military Past. Reviews will be edited before they are published. Reviewers will be afforded the opportunity to approve reviews receiving more than minor correction.
Fox, Elizabeth L., ed. We Are Going to be Lucky: A World War II Love Story in Letters. Albany: State University of New York Press, 2018.
Franqui-Rivera, Harry. Soldiers of the Nation: Military Service and Modern Puerto Rico, 1868-1952. Lincoln: Univ. of Nebraska Press, 2018.
Gargus, John. Combat Talons in Vietnam: Recovering a Covert Special Ops Crew. College Station: Texas A&M University Press, 2017.
Howe, Jim. Red Crew: Fighting the War on Drugs with Reagan's Coast Guard. Annapolis, Md.: Naval institute Press, 2018.
Lanning, Micheal Lee. The Veterans Cemeteries of Texas. College Station: Texas A&M Press, 2018.
Lanning, Michael Lee, ed. Texas Aggies in Vietnam: War Stories. College Station: Texas A&M Press, 2016.
Poole, Eric. Company of Heroes: A Forgotten Medal of Honor and Bravo Company's War in Vietnam. New York: Osprey Publishing, 2015. [NOTE: This is an advance readers copy and lacks an index].
Yarborough, Thomas R. A Shau Valor: American Combat Operations in the Valley of Death, 1963-1971. Havertown, PA: Casemate, 2016.
Ziarnick, Brent D., ed. 21st Century Power: Strategic Security for the Nuclear Era. Annapolis, Md.: Naval Institute Press, 2018.