Military History Conferences
Annual military history conferences are sponsored by the Council. They take place at different sites around the country and are planned for a Wednesday through Saturday, usually in early May. These three-day events include the presentation of papers on military history subjects, meals with speakers and trips to sometimes unusual and otherwise-inaccessible historic sites and military installations. A Sunday add-on day is usually planned to a location further from the conference site.
While members register on Wednesday afternoon, the Executive Committee and Board of Directors meet to conduct the organization's business. An evening welcome session and reception gives everyone an opportunity to get acquainted with new members and renew old friendships.
Thursday morning is dedicated to paper presentations in the hotel's conference rooms. Thursday afternoon, Friday, and Saturday are full of site visits to military installations and museums.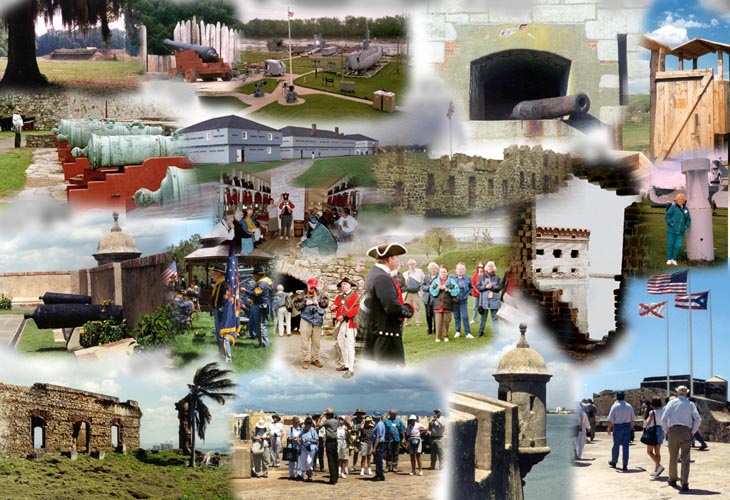 On Thursday or Friday evening, the Yount-Windsor book auction is held, the proceeds of which support the scholarships awarded to students to attend the conference. A formal dinner with speaker is the highlight of Saturday evening and concludes the regular part of the conference.
A separate add-on trip is often scheduled Sunday for members who wish to spend more time learning about the area's military history. These trips usually visit sites that are too far from the hotel to include in the regular conference and a smaller group size normally allows more time to study the sites in detail.
2022 Conference – Galveston, TX
2023 Conference – Lincoln, NE
Past Conferences
1967 – Fort Bowie, AZ
1986 – Toledo, OH
2005 – San Diego, CA
1968 – Augusta, GA
1987 – Philadelphia, PA
2006 – Chattanooga, TN
1969 – San Francisco, CA
1988 – Portland, OR
2007 – Hampton, VA
1970 – El Paso, TX
1989 – Mobile, AL
2008 – Salt Lake City, UT
1971 –

Washington, DC/

Baltimore, MD
1990 – Bismarck, ND
2009 – Pittsburgh, PA
1972 – Denver, CO
1991 – Honolulu, HI
2010 – San Francisco, CA
1973 – New York, NY
1992 – Tampa, FL
2011 – Kansas City, MO
1974 – Fort Leavenworth, KS
1993 – Galveston, TX
2012 – Lexington, VA
1975 – Los Angeles, CA
1994 – Tacoma, WA
2013 – Dayton, OH
1976 – Tucson, AZ
1995 – Savannah, GA
2014 – Reno, NV
1977 – Hampton Roads, VA
1996 – El Paso, TX
2015 – New Orleans, LA
1978 – Minneapolis, MN
1997 – Buffalo, NY
2016 – Frederick, MD
1979 – Boston, MA
1998 – Lexington, KY
2017 – Vancouver, WA
1980 – New Orleans, LA
1999 – Omaha, NE
2018 – Louisville, KY
1981 – San Francisco, CA
2000 – Burlington, VT
2019 – Tucson, AZ
1982 – Charleston, SC
2001 – Rapid City, SD
2020 – Baltimore, MD (canceled due to COVID-19)
1983 – San Antonio, TX
2002 – San Juan, PR
2021 – Charleston, SC
1984 – Jacksonville, FL
2003 – St. Louis, MO
2022 – Galveston, TX
1985 – Santa Fe, NM
2004 – Portland, ME
Council on America's Military Past-USA, Inc.
502 N. Norwood Street
Arlington, VA 22203-2217