2021 Conference Held in Charleston October 12-15 (with October 16 as Add-on Day)
While the 2020 CAMP Conference was canceled due to the pandemic, the 2021 Annual Military History Conference more than made up for it.
The Conference was held in Charleston, South Carolina, a city not only full of military history attractions, but also home to many other tourist attractions. The Conference was held in conjunction with the Coast Defense Study Group, which added expertise in explaining many of the sites to be visited.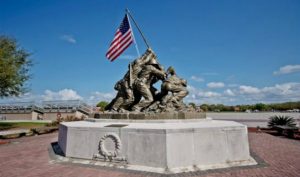 CAMP member Stephen Wise, the Curator of the Parris Island Museum, took members on a tour of the Marine Base to include the site of the Santa Elena mission and Charlesfort. There was also a tour of the base museum.
As to be expected, the tour of Charleston included Fort Sumter and the other fortifications of Charleston Harbor. Site visits included the USS Yorktown and The Medal of Honor Museum, and USS Laffey at Patriots Point.
Details and photos will be shared in the January 2022 Heliogram. 

Council on America's Military Past-USA, Inc.
502 N. Norwood Street
Arlington, VA 22203-2217